Fast charging in new iPhones is quite a controversial issue. At first, Apple did not include the fast charger in box with this year's iPhones. You have to buy it separately. Later, it turned out that wireless charging is slow and Apple has not decided to take advantage of the full potential of the Qi standard. Fortunately, the second problem had been solved in the latest update to iOS 11.2.
All this year's flagship smartphones from Apple, i.e. iPhone 8, iPhone 8 Plus and iPhone X, support new charging solutions. The first one is USB-PD (USB Power Delivery) high-speed charging. However, you need 29 W charger in order to achieve the full potential of this new feature. The second solution is the introduction of wireless charging using Qi technology. Fortunately, Apple has not applied any of its own solutions, so we'll be able to find chargers coming from external vendors that will be compatible with the new iPhones. However, Apple has implemented only support for 5 W version of Qi. This has also been confirmed by tests conducted on the iPhone 8, which was fully charged by a 7.5 W Qi charger at the same time which was needed in case of a conventional 5 W charger (5 V and 1 A).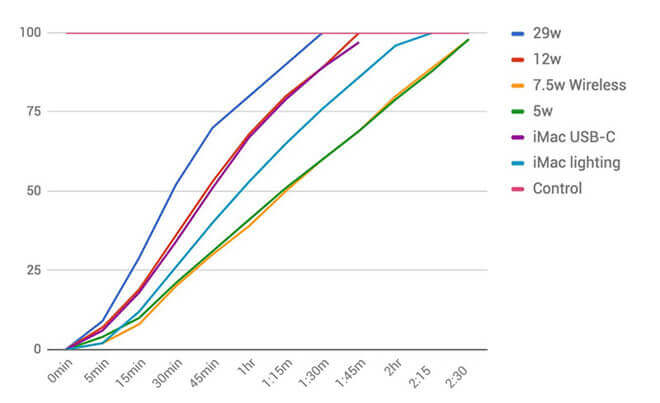 iOS 11.2 update unlocks support for Qi 7.5 W.
This is not yet the peak of today's fast wireless charging technology, but at least Apple has resigned itself to artificially limiting its components. Qi standard in version 1.2 offers 15 W charge, which was used by Samsung already in the Galaxy S7. The fact that the new iOS has accelerated wireless charging comes from RAVpower company, which manufactures power banks and mobile charges for different kind of devices. The MacRumors team has confirmed this information. The new iPhone X was charged with a Qi 7.5W charger from 46% to 66% within 30 minutes. The same unit was charged from 46% to 60% for more than 30 minutes using the weaker Qi charger. So, if you are looking for a wireless charger for the iPhone 8, 8 Plus or the new X, then you should choose 7.5 W model.
Source: MacRumors