Few days ago was the premiere of the latest HTC mobile flagship. It is the HTC U Ultra model which will go on sale in March this year. But what sets it apart from the competition? Certainly a big advantage of this device will have two screens, especially known from phones such as the LG LG V10 or V20. In addition, Ultra can safely boast with a strong specification and good quality camera. Despite the release, to the phone itself we will have to wait a few extra months. The March premiere will be worldwide. HTC U Ultra will cost $749.
Specifications HTC U Ultra proves that this phone calmly deserved to be called a flagship.
A decent camera UltraPixel 2 matrix in 12 megapixels with the PDAF autofocus. In addition, the OIS image stabilization, you will find certainly necessary when recording movies in Full HD quality. The front camera also boasts great parameters. It offers 16 megapixels and is sure to impress many of the details in a video calls or selfies with your friends. To see full color and deep of  your taken images, HTC decided to add to your phone  5.7" screen in QHD resolution . In addition, a smaller screen, on the right from the front camera, will have  diagonal of 2.05 inches and a resolution of 160 x 1040 pixels. It will offer quick access to your favorite applications, weather or the latest news and notifications. When it comes to strong components, HTC U Ultra on the board will have a Qualcomm Snapdragon 821 processor with Adreno 530, 4GB of RAM and a really fast internal memory offered in 64 GB and 128 GB versions. The whole thing is powered by a battery with 3 000 mAh capacity, that also supports fast charging technology Quick Charge 3.0.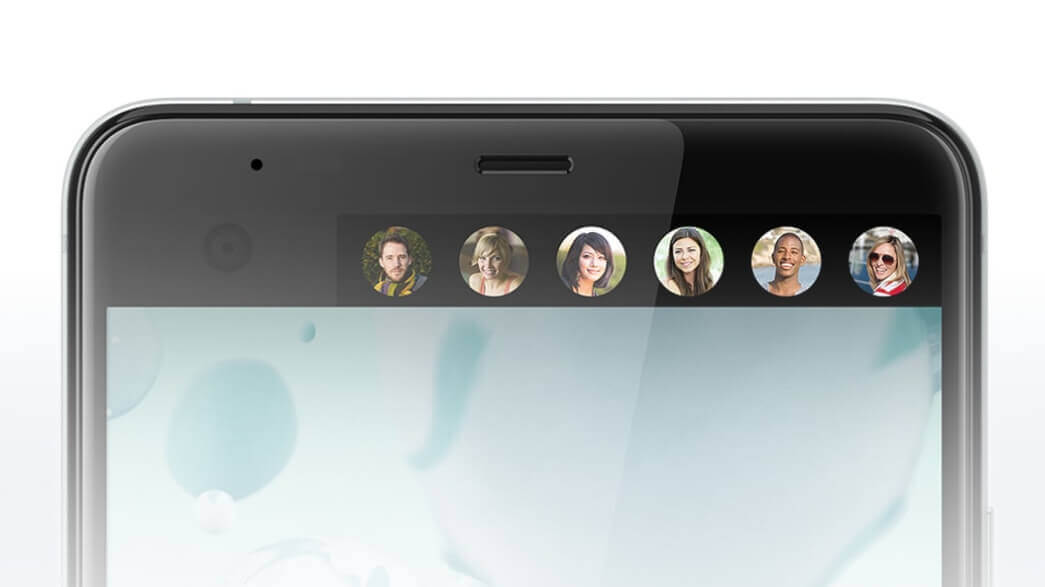 New technology and digital assistant come into play.
Sense Companion is a new digital assistant created by a HTC team, as of today will be compete with Siri and Cortana. The voice control system will facilitate our daily activities, and in the context of the time when we have busy hands, we can easily get to the data without removing hands under a warm blanket. Whole will be controlled by the latest Android 7.0 Nougat. As you would expect previously, following the spirit of the time, HTC also got rid of the mini-jack. This port has been replaced into USB Type C with U Sonic technology, which will help us to adjust the sound in our earphones.