Samsung Galaxy Note 7 is a smartphone that will be remembered for years. Unfortunately, this fame is not due to groundbreaking innovations, but the scams with faulty batteries. Samsung had to withdraw its flagship and ask customers to return all equipment because they posed a real threat to their health and life. Originally, all the specimens were to be disposed of, but Samsung decided to bring the series back to life and release the Galaxy Note Fan Edition.
Ecological activists were very unhappy with the initial plans to get rid of all the Galaxy Note 7 mobiles. The truth is that the manufacturer could easily resell the returned copies. Samsung has conducted a very thorough investigation, which resulted in the self-pinching Galaxy Note 7 resulting from mismatched batteries. Unfortunately, none of the two manufacturers was able to produce safe batteries that match the specifications provided by Samsung. Therefore, the Koreans decided to change the requirements and decrease battery capacity.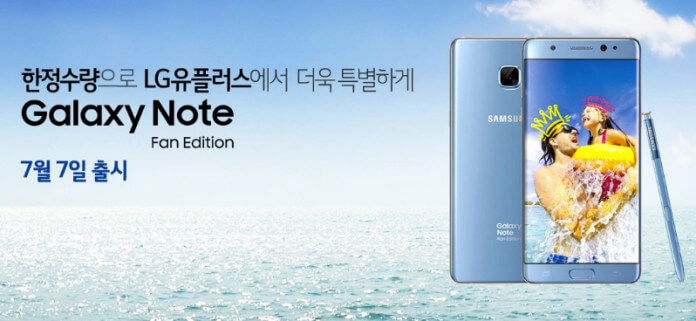 Samsung Galaxy Note Fan Edition will have a smaller battery than the Galaxy Note 7.
Exactly, the refreshed version of the Galaxy Note 7, which will go on sale, will have a battery with a capacity of 3 200 mAh instead of 3 500 mAh. The rest of the specification remains unchanged. Although Samsung has decided to update Android, the new Galaxy Note Fan Edition will have Android 7.0 Nougat. The price is also lower. It is currently known that in Korea there will be 450,000 copies priced at about $610, about 40% less than the Note 7. The offer is good, but unfortunately it will not be available in every region. Samsung will probably prefer to focus on introducing the Galaxy Note 8 in Europe and the United States than playing the marketing of the Galaxy Note Fan Edition.
The new Galaxy Note is 100% safe.
The Note 7 affair will probably be mentioned more than once in quality control training or product testing planning. Samsung has improved its product quality by introducing an 8-step battery test procedure. The manufacturer now tests their behaviour under extreme conditions and verifies components from external suppliers. That is why we do not have to worry about batteries attached to Galaxy Fan Edition, Galaxy S8, upcoming Galaxy Note 8 and other smartphones from this Korean manufacturer. Next year models should also not create problems. But fate likes to play tricks and sooner or later will hit the problematic copy. It remains to be hoped that Samsung will not resign from freshly implemented procedures. They are probably costly, but losing customers' trust may be very painful.
Source: MobileXpose