Everyone was delighted when Netflix decided to include in their mobile applications the ability to download the selected content. This option has even been made available to Windows 10 users, also in the desktop version. All this is for us to save on internet packages and watch your favorite show on the go. Unfortunately, offline does not impose limitations that Netflix does not explicitly state.
We are already used to the fact that downloaded video is not available in the highest possible quality. However, few are worried. Lower resolution downloaded video takes up less space and consumes less data pack. For Netflix it is also less server load. Consumers of the most popular VOD services have also become accustomed to not being able to download every movie or series. Such restrictions are directly attributable to subscriptions signed with content providers. But that's not all.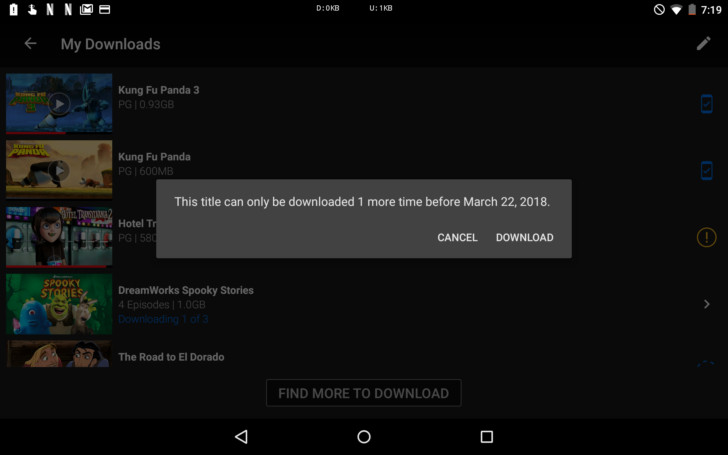 Netflix allows 4 or 5 downloads of the same recording per year.
This rather unpleasant discovery was made by the Android Police editor. If we approach the imposed limit, Netflix will warn us that we have yet another download with the refresh date of the counter. It may be annoying that the recordings downloaded by Netflix have a specified duration. After that date, we need to refresh the material, which is calculated the same way as downloading on another device. It is not known whether the limit is applied to the entire account or to the user profile. Netflix does not impose any restrictions on sharing your account with your family, they all log into the same account, but each has its own profile. How many homeless people watch the same series offline, the limit of the number of downloads can be exhausted very quickly.
It is unknown whether the described limitation is directly attributable to the license, or is simply a whip for offline users. Netflix has very good adaptive algorithms, which on-the-fly select the quality of the material to be viewed, depending on the capabilities of the device and the Internet connection parameters. This makes Netflix servers not overloaded. However, if someone in the same circle gets the same movie or episode of the show, then something is wrong. This also generates unnecessary server load, which can have a negative impact on the quality of the service provided. So far, Netflix representatives have not commented on this report. We are nothing but careful consideration of offline.
Source: Android Police