People using Google Maps have certainly noticed that this application proposes several trip forms. One of them was an Uber. This function worked in such a way that Uber could be ordered without leaving Google Maps. However, this has changed recently. Google gave up direct integration with Uber, but continues to refer to a dedicated application where the order can be finalized.
Should a move from Google be taken as a blow to Uber? Some people think so. However, this is not true. On the one hand, the installation of a dedicated application may seem like a small inconvenience, but thanks to this Uber can collect detailed data on the journey and ensure communication between the driver and the passenger. However, there is also the other side of the coin. Apart from Uber, Google Maps also offers journeys via other platforms. For example, you can also order a ride with Lyft. It is interesting that Alphabet (a conglomerate to which Google belongs) invested a million dollars in this startup a year ago. Perhaps Google will also open to other travel services.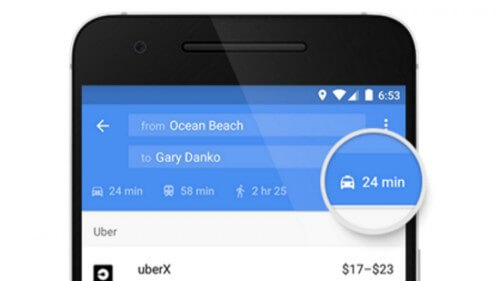 Google Maps stops favoring Uber
Google a year ago gave up direct Uber ordering with its Maps for iOS. Now this change also applies to users using Android smartphones. The most important of all, however, is that the change introduced may be a harbinger of the new API, which will also be made available to other applications offering passenger transport. It is not known only whether taxi applications could compete in this way with Uber, which attracts customers with a lower price and a refined mechanism of pairing drivers with passengers.
Source: Google, Android Police