As was it was expected, Niantic prepared a special commemorative event to celebrate the holidays. Similarly, in the case of Halloween. I think we can slowly get used to it. This time everyone, who hunts on Pokemons from second generation, will benefit from the event. It will be much easier to hatch Togepi and Pichu. The Christmas event started today (25th December) and will last until 3rd January. What bonuses are waiting for Pokemon GO trainers this time?
Every day we will get one time use incubator. To get it you have to simply visit any PokéStop and spin the disk. I bet that some of you already do this because of the daily bonus. Interestingly, during the event Niantic has increased the chance of finding the eggs, which hatch Togepi, Pichu and other Pokemons from the Johto region. Additionally, Niantic decided to extend the period when limited edition of Picachu with Santa hat will be available to catch. This is very good information for trainers who still want to collect candies for the evolution to Raichu. The limited edition of Pikachu will occur even more frequently until the end of the event.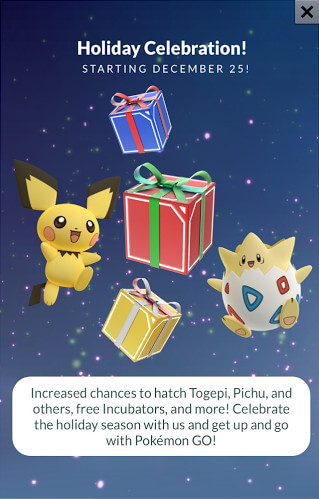 Niantic has a lot of ideas to keep the number of Pokemon GO players.
This is not the end of bonuses. From 30th December to 8th January Niantic will increase the chance for a meeting starting Pokémon from the Kanto region and their other forms. This means that it will be a great opportunity to hunt for Bulbasaur, Ivysaur, Venusaur, Charmander, Charmeleon, Charizard, Squirtle, Wartortle and Blastoise. Additionally, Lures will work twice time loner, i.e. 60 minutes instead of 30 minutes. Clearly, the Niantic fights winter and encourages players to prevent from dropping the game. The math is simple. Lowe number of players means less revenue from micro payments. I would not be surprised if from today the players began to buy massively incubators and next to that Lures to double chance of catching these rare Pokemons.
Source: Niantic