Two weeks ago Check Point specialists warned about the malware that could exploit a vulnerability in the "Allow other apps" Android functionality. This time the same company found in the Google Play store malware named Judy, which could infect as many as 36.5 million Android users.
Once, to be safe, it was enough to install on our smartphones applications from the official source. Unfortunately for a long time this is not a sufficient strategy. Criminals have learned to smuggle malicious code that is not detected by Google scanners. It encrypts and attaches them to useful applications (such as games), which are downloaded by millions of users later. This was, for example, FalseGuide (the virus was in games imitating game guides), Skinner, or the already familiar Viking Horde.
Judy malware makes that our smartphone generate huge amount of advertising views.
Contrary to appearances it is not funny. The code identified by Check Point is used to generate an unimaginable number of ad impressions, for which criminals later receive money. Judy does not steal your data, but uses your internet package. In addition, it slows down the operation of the smartphone and shortens the battery life. The worm has been found in over 50 applications, most of them have been recently updated. It is not known whether criminals have implemented malware immediately or whether they initially wanted to gain user trust. According to statistics available in the Google Play store, Judy malware could hit at least 8.5 million smartphones, with an upper estimate of 36.5 million.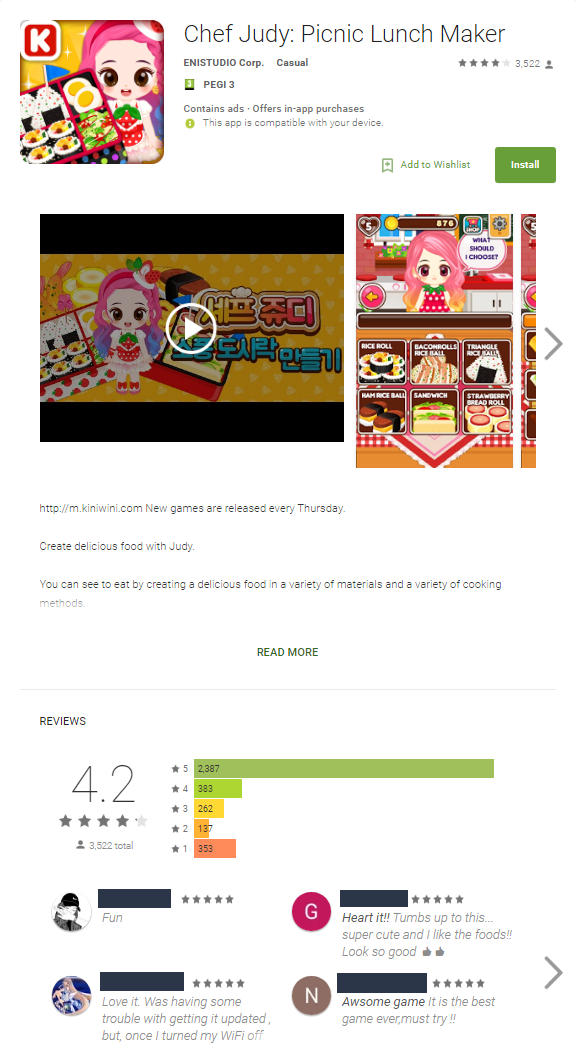 Malware is in applications mainly coming from one studio.
The virus signature was found mostly in applications written by Kiniwini. Interestingly all of them have been updated in late March or April. Perhaps it was then that malicious code was added. Interestingly, Check Point specialists have also found the same signature in individual applications from other developers. However, it is not known if Judy was placed there by accident (e.g. by copying the code) or whether criminals began selling the worm.
Studio Kiniwini (43 applications):
Fashion Judy: Snow Queen style
Animal Judy: Persian cat care
Fashion Judy: Pretty rapper
Fashion Judy: Teacher style
Animal Judy: Dragon care
Chef Judy: Halloween Cookies
Fashion Judy: Wedding Party
Animal Judy: Teddy Bear care
Fashion Judy: Bunny Girl Style
Fashion Judy: Frozen Princess
Chef Judy: Triangular Kimbap
Chef Judy: Udong Maker – Cook
Fashion Judy: Uniform style
Animal Judy: Rabbit care
Fashion Judy: Vampire style
Animal Judy: Nine-Tailed Fox
Chef Judy: Jelly Maker – Cook
Chef Judy: Chicken Maker
Animal Judy: Sea otter care
Animal Judy: Elephant care
Judy's Happy House
Chef Judy: Hotdog Maker – Cook
Chef Judy: Birthday Food Maker
Fashion Judy: Wedding day
Fashion Judy: Waitress style
Chef Judy: Character Lunch
Chef Judy: Picnic Lunch Maker
Animal Judy: Rudolph care
Judy's Hospital: pediatrics
Fashion Judy: Country style
Animal Judy: Feral Cat care
Fashion Judy: Twice Style
Fashion Judy: Myth Style
Animal Judy: Fennec Fox care
Animal Judy: Dog care
Fashion Judy: Couple Style
Animal Judy: Cat care
Fashion Judy: Halloween style
Fashion Judy: EXO Style
Chef Judy: Dalgona Maker
Chef Judy: ServiceStation Food
Judy's Spa Salon
Other developers (9 apps in total):
커플디데이 (커플기념일, 위젯)
Dog Music (Relax)
카카오톡 대화분석기
황금기 알리미 (여성달력)
100억 가계부
KatocPic(카톡픽) – 카톡프로필
필수추천 무료어플 77
Spring-It's stylish, it's sexy
Crafting Guide for Minecraft
Source: Check Point