The All-in-One computer market is quite substantial. True, not as big as a laptop, but still a popular device. At the moment, the leader of this segment is probably Apple for now with its iMac computers. At the recent IFA fair in Berlin, Acer unveiled its new All-in-One, the Aspire S 24, which features a thin and almost without bezels screen.
Bezel less screens are very popular in the world of smartphones. Now this fashion comes to the world of monitors. However, Acer introduces it to all-in-one computers, which are quite an interesting compromise between a laptop and a traditional PC. Briefly, All-in-One computers are monitors integrated with all components of an ordinary computer. So behind the screen, we find the motherboard, processor, hard drive, etc. Therefore, these machines can never boast of sluggishness. However, in return we get decent performance and no tangle of cables.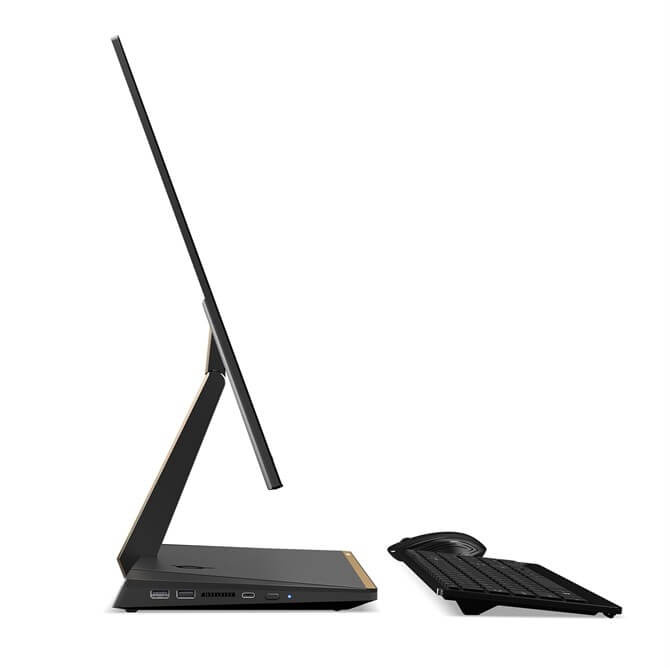 In the Acer Aspire S 24 all components are included in the stand.
It is both simple and unmatched solution. The manufacturer thanks to this approach to the subject can boast of a slim screen, but has less space to push all the components. However, in this case it has justification. The stand in the Acer Aspire S 24 is equipped with a fast Qi-compatible wireless charging module. So you can put your smartphone on the base and charge it. Clever.
Let's move on to details. The Acer Aspire S 24 is an All-in-One with a 23.8" screen and a 5.97 mm profile. The frame is only 2.7 mm, so the screen occupies 90% of the screen surface. In the cradle we will find an 8-core Intel Core processor (i5 or i7), two hard drives (256 GB SSD and 2 TB HDD), an 802.11ac Wi-Fi adapter and 2.1 speakers. Acer is proud of the audio system in its Aspire S 24. It is interesting how this audio solution will perform in practice. Unfortunately, the manufacturer did not give details about the amount of RAM. The computer will be available for sale in US already in November this year, and its price will start from $999.
Source: Acer