The ritual is that before the meal, people first draw a smartphone, take a picture and throw it on Facebook. Therefore, no one should be surprised at the fact that Marek Zuckerberg's company is also interested in how we get this food. Restaurateurs are already on Facebook, so it begs to give users the ability to order food directly from the social networking site.
The new option is currently only tested in the United States. The second reason for the lack of concern is that Facebook (at least for now) has not developed its food order system, and is based on existing services already. It turns out that when you click on the button start the order, the user is redirected to a site that works with Facebook, where the order is made.
Will Facebook introduce a genuine food ordering system?
It is difficult to predict which direction will Marek Zuckerberg's portal. So far, we are dealing with Facebook with existing services on the market. Surely this situation is beneficial for both parties. Services that specialize in ordering food will benefit from the wealth of users of the world's most popular social networking site. On the other hand, Facebook will definitely earn some commissions here. Also, restaurateurs who build a strong position on Facebook should also be happy. Those who did not do it will surely try to increase the popularity of their fanpage.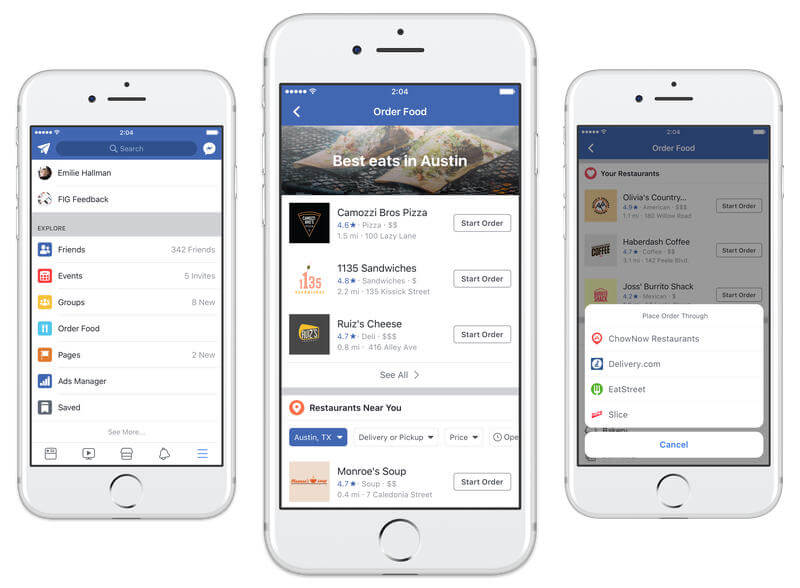 The new feature is available both from the web and mobile applications. For now, it is not known when it could hit other countries as well. It may take some time to get started on a global scale, as Facebook has to work with different suppliers in different countries. There is still a question of adapting to the site API and synchronizing the databases of supported restaurants.