Spotify is one of the most popular streaming services that has changed our habituation associated with listening to music. You can use the site's resources for free, but there are some limitations. For the amenities in the form of no ads, high quality sound, etc., you have to pay by buying a Premium account. More "resourceful" users who decided to install modified Spotify applications were caught and asked to install an official client.
Installing pirated applications on Android smartphones is not particularly difficult. The only thing you need to do is to allow in the system settings to install applications from unknown sources, download the appropriate APK file and run it. Therefore, it can be suspected that quite a few people decided to fool Spotify and installed a modified client, which allows you to get free functionalities known from the Premium account. However, this type of activity is visible on the server side. That is why Spotify decided to warn the dishonest users and sent them a warning.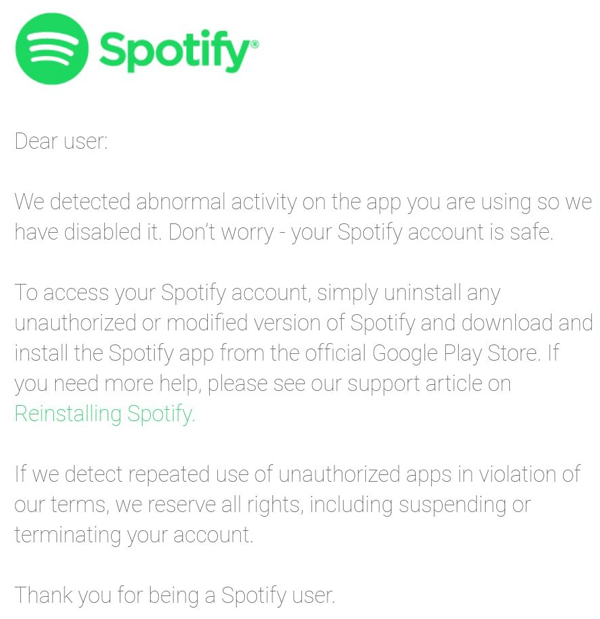 Spotify treats pirates gently
If you belong to the group of "resourceful" Spotify users, you do not have to worry about any financial penalties. The e-mail alert only says that the service provider detected incorrect application behavior, so it temporarily deactivated the user's account. However, access to the website can be recovered in a very simple way. Just uninstall the faulty client and install the official Spotify app, which is available in the Google Play store. Many people think that this action is linked to the company's recent entry into the New York Stock Exchange. This type of action is quite reasonable. There is a fairly good chance that the user who has got used to the comforts offered by the Premium account will decide to purchase a subscription.
Source: Torrent Freak